JCF News and Announcements
---

Detail from Hawaiian Drummers. 1950.
Exhibitions of Jean Charlot's works, new books and other publications about or mentioning Charlot, restorations of Charlot's works, Charlot's plays performed, JCF activities, and more.
# 2015–2016
Contributors: Laura Warfield, with assistance from Jean Trapido-Rosenthal, Bronwen Solyom, and Kent Severson.
# 2015–2016 Fiji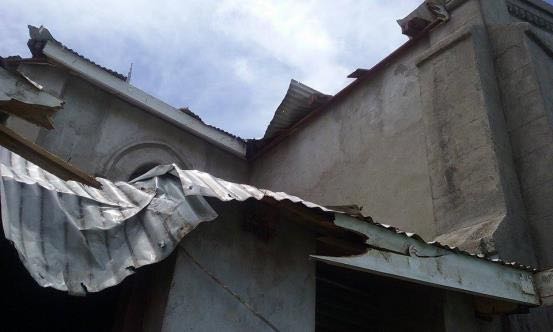 Fiji church, JCF report 2016-04-19, pg. 5
Right now our top concern is Charlot's fresco murals at Naiserelagi, Ra, Fiji. Although the murals survived Tropical Cyclone Winston, which struck Fiji in February 2016, the roof of the building that houses them was damaged, and the doors and windows destroyed. Several good pre-cyclone photos can be found on an unrelated artists' blog entry "Charlot's Black Christ Mural in Ra" (2015-01-15), by Jack and Alise. A story by Geraldine Panapasa from the Fiji Times Online from several years ago, "Living with the Black Christ" (PDF, 2009-02-08), talks about what this fresco means to the community.
The JCF has funded emergency measures to prevent any further damage to the mural, which have been spearheaded by Dr. Caroline Klarr, who wrote her Ph.D. thesis on the murals. These initial efforts are in the JCF's report "Jean Charlot's Fiji frescoes after cyclone Winston" (PDF, 2016-04-19). Much more remains to be done, however: more permanent repairs to the roof, doors and windows are necessary, and eventually the condition of the murals will need to be evaluated, and they will likely require restoration.
The JCF and Dr. Klarr are continuing to work tirelessly on this project. Any special contributions (PayPal) you may be able to give for this purpose would be very welcome.
# 2015–2016 Exhibitions
The Philadelphia Museum of Art's exhibition, "Paint the Revolution: Mexican Modernism, 1910–1950" (October 25, 2016–January 8, 2017), includes one of Charlot's paintings (Bathers, 1943). The Museum also holds dozens of Charlot's works in its permanent collection.
A show of half a century of Mexican Art, "Mexique (1900–1950)", on view in Paris, at the Grand Palais, from October 5, 2016 to January 23, 2017, includes two of Charlot's paintings from Mexican collections.
The Ayala Museum in Makati City, Philippines, hosted an exhibition of twentieth-century Mexican art ("Mexico: Fantastic Identity, 20th Century Masterpieces from the FEMSA Collection", September 30, 2016–November 9, 2016) that includes Charlot as a featured artist.
An exhibition at the National Gallery in Washington, DC ("Three Centuries of American Prints from the National Gallery of Art", April 3–July 24, 2016) included one of Charlot's prints (Tortilla Maker, 1937). The show travels to Prague (National Gallery, October 5, 2016–January 8, 2017), Mexico City (Antiguo Colegio de San Ildefonso, February 7–April 30, 2017) and Dallas/Fort Worth (Dallas Museum of Art, May 28–September 3, 2017). The National Gallery also holds several other Charlot prints in its permanent collection.
The Mexican Museum in San Francisco presented an exhibition, "Maestros: 20th Century Mexican Masters" (March 13, 2015–June 28, 2015), organized by David de la Torre, including art by Charlot, "whose work contains bold colors, geometric shapes, and Mayan Imagery," according to the San Francisco Examiner (Anita Katz, "Modern Mexican art's diversity revealed in 'Maestros'", April 30, 2015).
# 2015–2016 Publications
The September 2016 issue of Historic Hawaii News included an article by Cathi Shar Ho ("Charlot House Finds New Life with HIDESIGN Studio, Public Access") about the Charlot House's new role as an outreach center for UH Mānoa's School of Architecture.
An April 26, 2016 essay, "Isami Enomoto: Legacy of a Quiet Man" by Noe Tanigawa for Hawaii Public Radio, mentioned Charlot, who "forced him [Enomoto] to sign" the UPW tile murals on which the two artists collaborated.
Constance Hale wrote an excellent article about Jean Charlot ("The Man behind the Murals"), published in the February/March 2016 issue of Hawaiian Airlines' Hana Hou! magazine. We hope that this is only the first of her writings on Charlot. (Several JCF board members, including Lew Andrews and Joe Stanton, assisted the author with her research.)
An article in the Garden Island (Rita de Silva, "A matter of faith: St. Catherine Church one of many that have influenced Kauai", February 15, 2016), about the church's art, included a photo of Charlot's Compassionate Christ, "the most compelling" of the artworks at St. Catherine, and admired "the creativity, skill and kindness of the artists who donated them."
The Honolulu Star-Advertiser's Keep Hawaii Hawaii column featured a story ("Artist's Waialae home shines with teamwork", by Robert M. Fox and David Cheever, August 2, 2015) regarding Charlot's collaboration with architects Pete Wimberly and Greg Tong on the design of the Charlot House.
An April 25, 2015 article in the Los Angeles Times, "Tiny Hawaiian chapel's big surprise: a fresco by France's Jean Charlot", by George Fuller, highlighted Charlot's fresco at the Kahua Ranch in Waimea, Hawaiʻi.
# 2015–2016 Miscellaneous
# 2015–2016 JCF Activities
The JCF's annual meeting on April 10, 2016, began with an update to members on Charlot's Fiji fresco murals after Tropical Cyclone Winston.

The main event, however, was a special presentation by Bronwen Solyom on one of Charlot's murals in Bachman Hall, Relation of Man and Nature in Old Hawaiʻi. Bron served thirty-seven years at the UH Mānoa Library, the last fifteen of which were in the Jean Charlot Collection, prior to her retirement in June 2016. Speaking in front of the mural itself, and supported by material from the Jean Charlot Collection, she provided a fascinating look at how Charlot came to Hawaiʻi, quickly became interested in studying Hawaiian culture, and incorporated his new-found knowledge into the mural.

Although Bron will always be missed, the UH Library has appointed Ellen Chapman, a qualified archivist/librarian and a long-standing volunteer at the Collection, as interim curator until a permanent replacement is hired.

The JCF invited distinguished art historian Tatiana Flores (from Rutgers University) to give a talk in conjunction with our annual meeting at the Honolulu Museum of Arton August 23, 2015. Professor Flores has expanded the conventional history of the Mexican Mural Renaissance, and her work has underscored Mexico's role in modernism worldwide. She spoke to an enthusiastic standing-room only crowd about the crucial contributions of Jean Charlot to these developments.

The JCF's 2015 UH Mānoa scholarship was awarded to Art Department students Haylee Ann Kamaluonalani Watson and Hana Marlee Yoshihata, and at the Honolulu Printmakers' 87th Annual Exhibition, the Award for Excellence in Honor of Jean Charlot went to Jeremy Bush, for On Kamani Waters. (In 2011, Jeremy Bush's Midday Hala won the Charlot award.)
# 2013–2014
Contributors: Laura Warfield, with assistance from Jean Trapido-Rosenthal, Bronwen Solyom, and Kent Severson.
# 2013–2014 Exhibitions
An exhibition at the Mexic-Arte Museum in Austin, Texas ("Miradas: Ancient Roots in Modern and Contemporary Mexican Art from the Bank of America Collection", curated by Cesáreo Moreno, September 19, 2014–November 23, 2014), presented "the artists' perspectives and reaction to their sociopolitical climate and issues pertaining to their identities." Artwork by Charlot was included, among that of many others.

The Pasadena Museum of California Art hosted an exhibit, "Picturing Mexico: Alfredo Ramos Martinez in California" (January 19, 2014–April 20, 2014), curated by Amy Galpin, which included works by Charlot. The exhibit also traveled to the Nevada Museum of Art (May 10, 2014–August 17, 2014).

In 2013 JCF board member and Honolulu Museum of Art Curator of Contemporary Art Jay Jensen put together a breathtaking exhibition of Charlot's depictions of Hawaiian drummers—one of Charlot's favorite Hawaiian subjects. Charlot interpreted this theme in dozens of variations in all media—frescoes and tile murals, paintings, drawings, and prints—over the course of his career in Hawaiʻi.

The exhibition ("Jean Charlot: Hawaiian Drummers", Honolulu Museum of Art, September 27–November 24, 2013 [2020-11-01: link unavailable] [honolulumuseum.org]) presented, for the first time, an overview of Jean Charlot's Hawaiian drummer works drawn from local public and private collections, including examples of Charlot's earliest treatment of the pahu theme in 1949, all the way up to his last drummer image in 1977. The JCF made a grant to the Honolulu Museum of Art in partial support of the exhibition. Over twenty of the items on view were lent by the Jean Charlot Collection at UH Mānoa; others were lent by collectors and JCF members. Our members were invited to the opening of the show on September 27 as well as to a fascinating walk-through with the curator on November 17. Photographs of the exhibition were posted to the JCF website.

The Honolulu Printmakers mounted an exhibition in the first floor gallery at Hamilton Library, UH Mānoa, titled "Lineage" and curated by Erika Molyneux. The exhibition recognized the work of printmakers, including Charlot, who have been influential in the history and teaching of printmaking in Hawaiʻi; it featured two big Charlot serigraphs with gorgeous color, Lauhala, Kapakahi Stream, Kahala (1978, Morse 751), and Hala Grove, Kahuwai, Puna (1977, Morse 748).

Also on display was a piece of history: the 1941 box with which Charlot demonstrated the process of making color lithographs, using aluminum plates, stages and proofs of his 1938 print Tortilleras (Morse 401). The Education Department of New York City's Museum of Modern Art (MoMA) made the box as part of an exhibition, "The Graphic Arts", that traveled around the US, in Canada and in New York schools until 1967. The box was rescued by a former MoMA volunteer who saved it from disposal, stored it for years, and donated it to the Jean Charlot Collection at UH Mānoa in 2006. A second iteration of the exhibition, installed by Toni Martin, was later shown at Gallery Iolani at Windward Community College.
# 2013–2014 Plays
In early 2014 Kumu Kahua Theatre produced one of Charlot's plays, Moa a Mo'i, which was directed by Dan Kelin. A review in the Honolulu Star-Advertiser (Ryan Senaga, "Fine staging brings to life old tale of Hawaii", February 2, 2014, page F-4), described the machinations of the play as "almost Shakespearean in nature," with "moments of eeriness and violence, but [...] also welcome bursts of humor and romance." The play, the title of which translates to "Chicken into King", follows the adventures of a commoner named ʻUmi who rises to become a ruler, and was previously produced at UH Hilo back in 1987.
An exhibit in the theater lobby, curated by Bron Solyom, featured various items from the Jean Charlot Collection at UH Mānoa relating to the play, including costume sketches, drawings of sets, newspaper reviews, and additional ephemera.The production was supported in part by a JCF grant, and a special pre-performance luncheon reception for JCF members was held on January 26, 2014, on the theater lanai, which was a great opportunity to talk story with some of our members. Remarks by Dan Kelin, as well as by JCF's president, Jean Trapido-Rosenthal, and Bron Solyom, introduced the day's performance.
# 2013–2014 Miscellaneous
Artist Evelyn Giddings took the students in her Fall 2013 "Experience Fresco" class at the Linekona Center/Honolulu Museum of Art to see Charlot's murals at UH Mānoa and Leeward Community College.

Giddings worked with Charlot as a technical assistant on a number of his monumental works. She contributed her metal-working skills to collaborate with him on the doors to the Thurston Chapel at Punahou School, as well as on In Praise of Petroglyphs at Moanalua School. With her ceramics skills, she was able to coordinate the completion of the 15-foot sculpture of Mary our Mother at Maryknoll School in 1978–1979. She was also a team member on major fresco projects such as the 1974 Leeward Community College mural, Relation of Man and Nature in Old Hawaiʻi.

The JCF funded an oral history from Evelyn Giddings, conducted by Lila Gardner during 2014–2015, about her experiences with Charlot and these artworks. The transcripts of the interviews will be available at the Jean Charlot Collection at UH Mānoa, and will eventually be posted on the JCF website.

JCF board member Laura Ruby worked with Maryknoll School on the restoration of several works by Jean Charlot, including two fresco murals, Woman at the Well and Las Malinches.
# 2013–2014 JCF Activities
In 2014, the JCF published Janine M. Richardson's The Writings of Jean Charlot: A Bibilography, print copies of which will be donated to selected libraries (and available for purchase from the JCF). The bibliography is also available electronically through the JCF website, and it will prove an invaluable resource for researchers of all kinds. Over 600 different items are recorded in the bibliography, arranged by formats including books and booklets, articles for magazines and journals, newspaper writings, poetry, interviews, and letters, which is a testament to the remarkable diversity and thoroughness of Charlot's scholarship.

As a postscript to this project, the JCF hired Ellen Chapman, an experienced professional indexer, to create a general index for the bibliography, which will also be posted on the JCF website.

The JCF's 2014 University of Hawaiʻi at Mānoa scholarship was awarded to Art Department student Eric "Ricky" Allen Peters, and at the Honolulu Printmakers' 86th Annual Exhibition, the Award for Excellence in Honor of Jean Charlot went to Sonny Ganaden for Things Always Seem to End Before They Start.

The JCF's 2014 annual meeting, on May 18, at the Charlot House, featured a talk by Bron Solyom on various aspects of the house and Charlot family life, based upon materials from the Collection. In addition, the year's JCF award recipients, Mr. Ganaden and Mr. Peters, showed and spoke briefly about their work. It was a very interesting and enjoyable afternoon.

The JCF's 2013 University of Hawaiʻi at Mānoa scholarship was awarded to Art Department student Joy Lehuanani Enomoto, and at the Honolulu Printmakers' 85th Annual Exhibition, the Award for Excellence in Honor of Jean Charlot went to Allyn Bromley, for 85 Monoprints.
# 2011–2012
Contributor: Laura Warfield.
# 2011–2012 Exhibitions
The San Diego Museum of Art held an exhibition, Global Journey/Local Response: Works by Jean Charlot (March 5, 2011–July 10, 2011). The museum noted:

The life story and multitude of work produced by Jean Charlot reveal an artist who traveled frequently, but who sought great inspiration from local environments. Charlot was not an artist that reveled in what was fashionable; instead he pioneered new techniques and emphasized the frequently neglected popular arts and daily life experiences of the people. The exhibition Global Journey/Local Response celebrates the work of Jean Charlot.

Project Curator for American Art Amy Galpin worked on the exhibition.

Another exhibition at the San Diego Museum of Art, Mexican Modern Painting from the Andrés Blaisten Collection (November 5, 2011–February 19, 2012) was described by its curators as an

examination and discussion regarding the presence of surrealism in Mexico, the role of Mexico City as a major art center, the influence of the open-air art school, the role of easel painting in the careers of artists more often associated with Mexican muralism, the contributions of foreign artists like Olga Costa and Jean Charlot, and the emphasis on indigenismo—the increased interest, following the end of the Mexican Revolution in 1920, in portraying the indigenous cultures—in the development of Mexican modernism.

As part of the Getty Foundation's city-wide "Pacific Standard Time" initiative, the LA Museum of Latin American Arts (MoLAA) held an exhibition, MEX/LA: 'Mexican' Modernism(s) in Los Angeles, 1930–1985 (September 17, 2011–January 29, 2012), presenting a history of cultural exchange between Los Angeles and Mexico through a diverse group of artists and varying types of artworks. The exhibition included work by Charlot—which is also included in MoLAA's permanent collection—along with that of many other artists. A catalog, in English and Spanish, accompanied the exhibition (Hatje Cantz, 2011).

The Kirkland Museum of Fine and Decorative Art held an exhibition including work by Charlot, 15 Colorado Artists: Breaking With Tradition (May 6, 2011–July 31, 2011). The exhibition presented "a magical, seminal moment in Colorado art" emblematic of the spread of modern art in America, according to its curator.
# 2011–2012 Books
Weston and Charlot: Art and Friendship, by Lew Andrews (University of Nebraska Press, 2011), follows the friendship of Jean Charlot and celebrated California photographer Edward Weston, who met in Mexico City in the 1920s, and stayed friends until Weston's death in 1958. This dual biography, in the words of the publisher,

documents a friendship that says as much about art—about photography and fresco, practice, criticism, and history—as it does about the intersection of a number of fascinating characters, the ups and downs of the correspondents' daily lives, the pursuit of their dreams and aspirations, and the support and encouragement they gave each other.

The author, an associate professor at the University of Hawaiʻi at Mānoa (and a JCF board member), gave a presentation about the book at the Center for Biographical Studies on the Mānoa campus on December 1, 2011.

Susannah Joel Glusker's two-volume edition of the Mexican diaries of Anita Brenner, Avant-Garde Art and Artists in Mexico: Anita Brenner's Journals of the Roaring Twenties (University of Texas Press, 2010), according to the publisher, provides fascinating portraits of artists such as Diego Rivera, José Clemente Orozco, David Alfaro Siqueiros, Rufino Tamayo, and Jean Charlot, "with whom she had an unusual loving relationship." Brenner

captures the major and minor players in the act of creating works for which they are now famous and records their comings and goings, alliances and feuds. Numerous images of their art brilliantly counterpoint her diary descriptions.
Other recent books that refer to Charlot.

Exhibitions: Concept, Planning and Design, by JCF board member Tom Klobe (American Association of Museums, 2012).

How Revolutionary Art Became Official Culture: Murals, Museums and the Mexican State, by Mary K. Coffey (Duke University Press, 2012).

My God, My Land: Interwoven Paths of Christianity and Tradition in Fiji, by Jacqueline Ryle (Ashgate Publishing, 2010).

Ben Norris, American Modernist, 1910–2006, ed. Margaret Norris Castrey (Huia Publishers, New Zealand, 2009, distributed by University of Hawaiʻi Press).
# 2011–2012 Miscellaneous
The Artstor Digital Library, with the collaboration of the Jean Charlot Collection and the Visual Resources Librarian of the Department of Art & Art History at the University of Hawaiʻi at Mānoa, as well as the Jean Charlot Estate LLC, is in the process of adding approximately 300 images of artworks by Charlot, from private collections and institutional holdings, to its online database. Artstor is a nonprofit digital image library serving museums, libraries and educational institutions in 46 countries. Many of the photographs of Charlot works that will be included in Artstor's database were funded by the JCF.
A web-only article for the College Art Association's Art Journal (Spring 2012), "Art Journal at Fifty", by Howard Singerman, mentioned "Jean Charlot's remembrance of Orozco" as one of the contributions to "CAJ [College Art Journal] and to the arts on campus" by "smart and quite philosophical artists."
In the summer of 2011, John Charlot (son of the artist, and a JCF board member), presented a talk on Charlot's murals at the McDonough post office outside of Athens, Georgia.  He was also interviewed about his father's work by Sonja Vass, for the Art Corner, on SBN TV, a local station for the south-metro Atlanta area.
Charlot's artwork was mentioned in several travel/lifestyle articles recently.

"36 Hours in Asheville, N.C.", by Shaila Dewan, New York Times, October 21, 2010, featured Charlot's murals at Black Mountain College.

"Hawaii's Public Art", by Tamara Moan, Honolulu Magazine, August 2011, featured "10 must-see Honolulu artworks," including Charlot's tile murals for the United Public Workers Building.

"Home is where the hale is", by Burl Burlingame, Honolulu Star-Advertiser, July 10, 2011, an article about the Hawaiʻi governor's residence, mentioned "a Jean Charlot print discovered in an abandoned airport cubicle" as something of which Governor Abercrombie is "particularly proud."
# 2011–2012 JCF Activities
The JCF's annual meeting was held on August 28, 2011, at the University of Hawaiʻi at Mānoa, in conjunction with a presentation by artist and educator Laura Ruby on her restoration of a collection of fresco murals on Hawaiian themes, painted by students of Charlot some sixty years ago and now embellishing Hawaiʻi Hall.
The JCF UH Art Department scholarship for 2011 was awarded to Eva Enriquez. At the Honolulu Printmakers' 83rd Annual Exhibition, the Award for Excellence in Honor of Jean Charlot went to Jeremy Bush, for Midday Hala. And at the Artists of Hawaiʻi exhibition at the Honolulu Academy of Arts, the Jean Charlot Foundation Award for Excellence was given to Keith Tallett, for Tattoo Williams (old English).
In 2011, the JCF made a travel grant to Amy Galpin, a graduate student at University of Illinois–Chicago (and Project Curator for American Art at the San Diego Museum of Art), for archival research at the Jean Charlot Collection for her dissertation, which involves Mexican muralism and the work of Charlot.
The JCF also made a small grant to the Honolulu Academy of Arts toward the restoration of a harpsichord, built for Trudi Roberts by John Challis, and decorated by Charlot, which is to be gifted to the Academy.
# 2010–2011
Contributor: Laura Warfield.
The exhibition Translating Revolution: U.S. Artists Interpret Mexican Muralists, featuring work by Charlot, among many others, will be on view at the National Museum of Mexican Art in Chicago from February 12 through August 1, 2010. A public symposium on the muralist movement in Mexico and its legacy will be held on May 15 in connection with the exhibition. nationalmuseumofmexicanart.org [accessed 2020-10-24]
A Charlot drawing of Iolani Luahine was hung with great fanfare in the newly renovated main lobby of the Royal Hawaiian Hotel on Waikīkī Beach, as part of a tribute to the late kumu hula. The drawing is on loan from Leimomi Moʻokini Lum, a relative of Luahine. www.travelagewest.com [accessed 2010-05-04]
Charlot's mural in one of the Jefferson Hall stairwells at the East-West Center at the University of Hawaiʻi at Mānoa, entitled Inspiration, Study, Creativity, was recently cleaned and restored, along with the companion mural by Affandi, thanks to a team from the Winterthur Museum/University of Delaware graduate program in art conservation. www.eastwestcenter.org [accessed 2010-05-04]

The French artist Isabelle Bonzom's forthcoming book on fresco painting will feature Charlot's works, among others. The study, to be published by Eyrolles in 2010, was awarded a grant from the Centre National du Livre. www.isabelle-bonzom.org [accessed 2010-05-04]

Francis V. O'Connor's epic The Mural in America: Wall Painting as Art and Environment from Prehistory to the Present, is now available online. Charlot and his works feature prominently in the story. muralinamerica.com [accessed 2010-05-04]
# 2010–2011 JCF Activities
At the JCF's annual meeting, on March 21, 2010, at the Charlot House, members and guests heard a thought-provoking talk by Professor Yoshinobu Ota of Kyushu University, a Fulbright Program scholar in residence at the University of Hawaiʻi at Mānoa. Dr. Ota's presentation on the topic of Jean Charlot's Mimesis generated a lively discussion.

The JCF awarded its 2010 UH Art Department scholarship to Brady Evans. At the Honolulu Printmakers' 82nd Annual Exhibition, the Award for Excellence in Honor of Jean Charlot went to Margo Ray, for Containment Landscape #6.
# 2009–2010
Contributor: Laura Warfield.




El Museo del Barrio in New York celebrated its post-renovation reopening in the fall of 2009 with Nexus New York: Latin-American Artists in the Modern Metropolis, featuring "pioneering Caribbean and Latin American artists who lived in New York City before World War II and shaped the American avant-garde." The exhibition and the accompanying catalog, Cullen, Deborah, ed., Nexus New York: Latin-American Artists in the Modern Metropolis (Museo del Barrio/Yale University Press, 2009), included work by Charlot.

In 2009, the University of Pittsburgh Press released Muralism Without Walls: Rivera, Orozco, and Siqueiros in the United States, 1927–1940, by Anna Indych-Lopez. Ms. Indych-Lopez was the recipient in 2007 of a grant from the JCF for research at the Jean Charlot Collection.

One of Charlot's works was used as an illustration in Jaime Preciado Coronado, "El estudio interdisciplinario socioespacial de la diversidad religiosa", Desacatos, 30 (May–August 2009).
# 2009–2010 JCF Activities
The JCF awarded its 2009 UH Art Department scholarship to J. Ashley McEwan. At the Honolulu Printmakers' 81st Annual Exhibition, the Award for Excellence in Honor of Jean Charlot went to Allyn Bromley, for Green Piece. And at the Artists of Hawaiʻi exhibition at the Honolulu Academy of Arts, the Jean Charlot Foundation Award for Excellence was given to Rujunko Pugh, for Crown Flower and Genetic Code.

In 2009, the JCF made a travel grant to Sara Hudson, a graduate student at Yale University, for archival research at the Jean Charlot Collection for a project involving Charlot's childrens' books.

The JCF board focused in 2009 on updating the JCF bylaws and charter and on expanding and redesigning the JCF website. In addition, the JCF set up an email account and continued its efforts to obtain photographs of original artworks by Charlot.

Detail from Hawaiian Drummers. 1950.
---
Contact, copyright, credit
Jean Charlot & The Jean Charlot Foundation